On saturday 12th September Oxfam Books Balham will be hosting an Oxjam busk-a-thon!
From 12pm – 6pm twelve local musicians will be playing at the shop.
Our lovely volunteer Ed will be filming the whole thing too, and it looks like it will be a wonderful afternoon.
A little recap
Oxjam began in 2006, with the aim of creating a network of music-loving people across the UK, all united by a shared goal – to raise money to fight poverty and suffering around the world. Over 5,000 Oxjam events have taken place since Oxjam began. All proceeds from the events go straight into helping impoverished communities through Oxfam's projects across the globe.
You can join a takeover team, which is responsible for organising a range of events over a local area, or you can be a gigmaker and put on your own event. If you'd like to get involved take a look at the Oxjam website here: http://www.oxfam.org.uk/oxjam.
Takeovers
Takeover teams are looking to recruit volunteers to coordinate fundrai
sing, marketing, production and recruitment for Oxjam 2016. To join a takeover team contact Brendan Rogers, Takeover manager for Clapham, at oxjamclapham.studio@gmail.com.
Gigmakers
Register as a Gigmaker to be in charge of your own gig, from hosting an intimate acoustic session in your living room to rocking out a concert hall. You can find out more and register to become a Gigmaker here:http://www.oxfam.org.uk/oxjam/get-involved/organise-an-event.
"All you need to make an Oxjam event happen is a set of decks, a few choice tunes and a place to play them, so there's really no excuse not to get involved." – Fatboy Slim
Even more music
To coincide with the Takeover event on the 12th we'll have lots of music on sale, CD's and vinyl, as well as a range of music-themed books: biographies, photography, and more. And just to remind any music buffs out there we still have a first edition LP of The Beatles' Sgt. Pepper's Lonely Hearts Club Band on sale!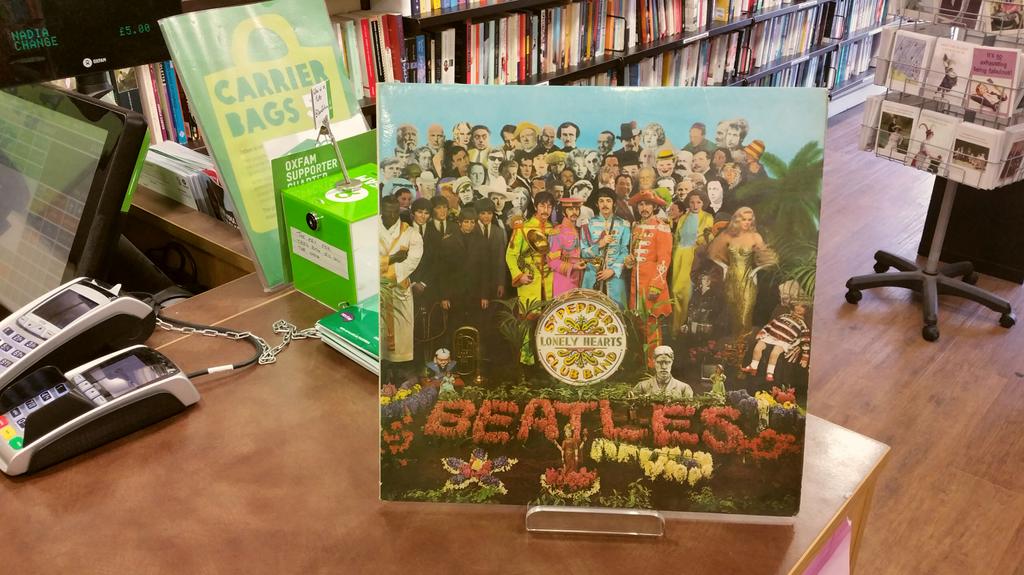 If you can spare some time on Saturday 12th do pop over to peruse our shelves while listening to some lovely live tunes. All proceeds go directly into Oxfam's projects. Books, music and a Saturday afternoon, plus you'll be helping impoverished communities around the world. What could be better?
– Jenny